Reviewing Logs
There are two types of logs:
OS and Server level logs
Application logs
Logs within AuthStack are handled using the Monolog PHP library. Every action in AuthStack emits an event, which is then pushed to the log collector. Whether logging in or changing a configuration option, all session information, such as username, IP of request and datetime are recorded within the logs for auditing and analysis where applicable.
Log Overview
Errors related to the application itself are stored within OS and Server level logs. Errors occurring within the application are handled within Application logs.
OS and Server logs will depend on your NGINX and PHP-FPM setup.
Typically they are stored below the www folder, inside logs.
These logs will be rotated according to your log rotation preferences.
Logs related to AuthStack are stored in the following location:
ROOT . /storage/logs/
The following logs are available to review:
app.log
exception.log
laravel.log
Viewing logs from the GUI
AuthStack supports limited log viewing capabilities, designed to help administrators resolve immediate issues, but not to perform log analysis. The last 100 log entries are displayed for both Application Logs (exception.log and app.log).
To view the logs, logged in with administrative permissions, navigate to Logs tab.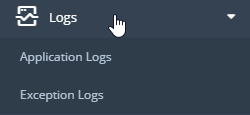 Understanding Logs
By default, the last 100 log entries will be displayed, with the latest log showing first. Clicking the date column will change the ordering from newest first, to oldest first, however the subset of data shown is still 100 log entries. Therefore, oldest will be the 100th log entry.
Log Table Headings
| Heading | Details |
| --- | --- |
| Date | The datetime the event occured |
| Level | The level of the log event which occured, conforming to https://tools.ietf.org/html/rfc5424 |
| Message | Human readable feedback describing the log event |
| Context | JSON array of data containing more detailed information, used by log analysers and reporting tools |
---
Limited searching tools are available from the GUI, they include:
Level
Part of message
Username
HTTP Method
Path
The search toggle can be found in the top right: