SSL LDAP Connection Errors
LDAP over SSL has been deprecated in favor of TLS some time ago, however some legacy systems may still need to connect in this way.
The most common issue is that LDAP will attempt to validate your SSL certificate, which if it's self-signed, will most likely fail.
Supporting Self-Signed SSL
On every instance of AuthStack running PHP-FPM, edit the following file:
/etc/ldap/ldap.conf
Change the config and ensure the following changes are made:
TLS_REQCERT never
#TLS_CACERT /etc/ssl/certs/ca-certificates.crt
Restart PHP-FPM once the changes are made:
sudo service php5.6-fpm restart
Within the LDAP Connection setup process in AuthStack, ensure you use the following settings, replacing the IP/port as per your installation.

Do not tick the TLS flag.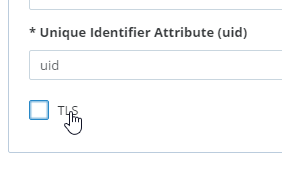 This should resolve your connection issues. If you still experience issues then contact the Support Team.